Search results: 12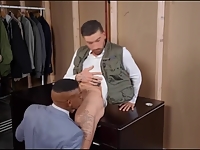 Forecasting Cum: POP-UP
Enjoy Chris's hijinks as he dances and waves his dick around in front of the green screen, which was all this hilarious actor's own flourishes. Was the chemistry between these two perfomrers as hot as it appeared?
Time: 06:00
Added: August 22, 2021
Views: 2064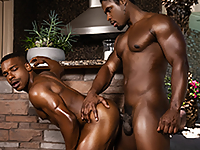 Hooking Up With DeAngelo Jackson
Adrian Hart joins the sexy top for passionate kissing, and DeAngelo fucks the bottom's mouth, then bends him over and has his way with him doggystyle. DeAngelo lies back on a towel and enjoys watching Adrian ride his big cock, then sensually sucks the bottom's dick before he penetrates Adrian in missionary till both guys cum!
Time: 06:00
Added: July 29, 2021
Views: 2331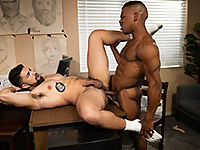 Precinct 69 Part 2
He bends Adrian over and penetrates his hole with a toy, then explores it with his tongue. The bottom rides Adrian on a chair, then the top sucks Nick's cock before fucking him on the captain's desk. Adrian stretches Nick's ass out in doggystyle, then turns the bottom on his back as Nick asks for more.
Time: 06:00
Added: July 17, 2021
Views: 2109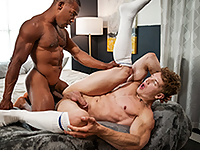 Hooking Up With Felix Fox
Felix climbs onto the bed and rubs his ass, sliding his fingers inside before lying back to stroke his cock. Felix could use a hand, so Adrian Hart joins him to passionately kiss the hunk and suck his cock before feeding Felix his dick. Adrian spanks Felix's pert ass and rims him before fucking the bottom doggystyle, then turns Felix on his back so he can see his gorgeous face as he fucks him missionary.
Time: 06:00
Added: July 12, 2021
Views: 3661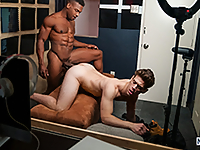 Rhythm & Blue Balls
The producer catches him and orders the janitor out, but instead Adrian puts him up against the window, motorboating that firm ass before sliding his cock into it. Michael rides the sexy singer and Adrian sucks the bottom's dick, then pounds him doggystyle some more before rimming him.
Time: 06:00
Added: May 17, 2021
Views: 1940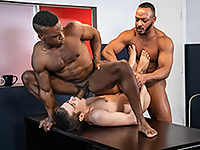 Layover My Dick - Part 3
Adrian's fellow officer Dillon Diaz walks in on his partner kissing Joey, and they decide to give him the D together. Joey sucks both their cocks, and the muscular cops take turns rimming each other as Joey sucks them, then Dillon pounds Joey's hole doggystyle over the table as the twink sucks Adrian.
Time: 06:00
Added: May 14, 2021
Views: 2552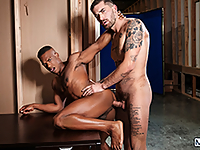 Forecasting Cum
He slips into a green morph suit and creeps into the frame, dancing up a storm in front of the green screen and then pulling down the weatherman's pants! Chris rips a hole in his suit and waves his hard cock around before fucking Adrian doggystyle live on air
Time: 06:00
Added: April 23, 2021
Views: 1350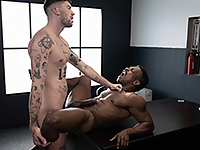 Hard On Parole
The orange jumpsuit-wearing bad boy just wants to have fun, starting with sucking Adrian's cock, then he turns the tables and fucks Adrian's face. Chris fucks the bottom on the table, then Adrian sucks Chris's dick and rides him before Chris bends him over and pounds him till he shoots his load all over the one-way mirror
Time: 06:00
Added: March 31, 2021
Views: 2367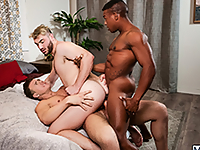 MenPop - Part 3
Their action is so hot that their viewer gives them a tip, so they thank him before Michael takes more than just the tip of Adrian's cock doggystyle. It turns out Adrian will bottom today after all, because JJ gets so horny he starts to fuck him too! Power bottom Michael takes both their dicks in a hot double penetration, then Adrian rides JJ as he sucks Michael's cock before both JJ and Adrian cover Michael's face with jizz and he cums all over his abs.
Time: 06:00
Added: March 27, 2021
Views: 3641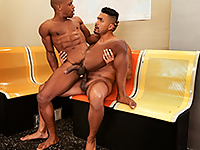 Subway Stories - Part 2
Ricky goes down on his fiance, then fucks him doggystyle, and the guys get on the floor for some down-and-dirty fucking before they have a simultaneous orgasm. Time to tie the knot!
Time: 06:00
Added: March 5, 2021
Views: 2241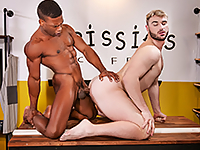 Sexpresso
As he steams some milk, he gets steamy jacking his cock and watching athletic customer Adrian Hart, until Adrian catches Michael with his pants down and does a spit-take at his big muscle ass! Michael offers Adrian the special, an under-the-counter blowjob, and then the customer pours milk all over Michael's ass and devours his hole.
Time: 06:00
Added: January 28, 2021
Views: 6508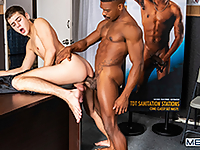 Dispensing The Goods
When another patient can't make Adrian's dick squirt, janitor Joey Mills keeps the horny guy's secret while stroking and sucking his cock till his face gets covered in jizz. Joey gets naked and Adrian eats the janitor twink's ass, fingering his hole before sliding his big dick inside.
Time: 06:00
Added: November 24, 2020
Views: 5940